Wine barrels vs. bourbon barrels
Bourbon Barrels- As the barrel dries out, it begins to crack open at the seams, releasing a sugary black dust. The dust comes in contact with moisture in your home, creating BLACK MOLD, also known as Whiskey Fungus. IMPORTANT: If a whole Bourbon Barrel is intended for use as furniture, the char should be removed and the inside of the barrel should be sealed.
Wine Barrels- Do not have ash or char on the interior when they are retired. The interior is fan sprayed with liquid sulphite to prevent sugar crystallization.
---
The Oak Barrel Company uses only clean wine barrels for the creating of all tables and whole barrel furniture.
Here are a couple of articles that support our choice in barrels.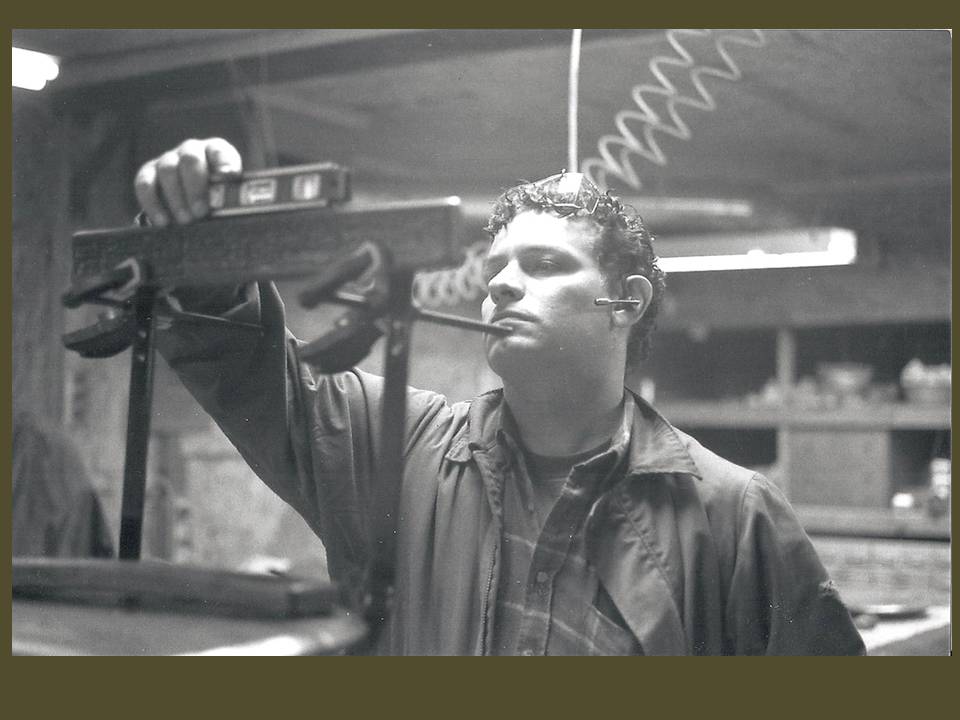 A Revelation in the Basement
When most of us see an old oak barrel, we see something long used for everything from aging whisky or wine, holding pickles or storing hardware items and catching rain from downspouts.
But Chris Deffenbaugh discovered something well beyond what a barrel can hold. His revelation came quite by chance.
"I was helping a friend clean out his basement and I spotted the pieces of an old oak barrel in a corner," Chris recalls. "My friend said 'just take it out to the curb and leave it for the trash man.' But looking at the curve of the old barrel staves, the wooden lids and the rusty rings that once held it all together, I was struck by the shapes and threw it in my pickup truck to take home and see what I could do with it."
Chris confesses he barely knew how to handle a hammer and nails, much less possessing the talents of a cooper: one who makes barrels for a living. But he figured it out and put the old oak barrel back together. Not long after, he decided the barrel ought to have some function other than as an unusual table in his home.
Cutting into one side and creating a set of doors from the oak pieces, he turned it into a bar cabinet: a place to store bottles of wine and spirits on his deck when guests visited. "They started asking me to make one for them," says Chris, which still makes him laugh. "I didn't have any old barrels. Where was I going to get them and what would I do with them?"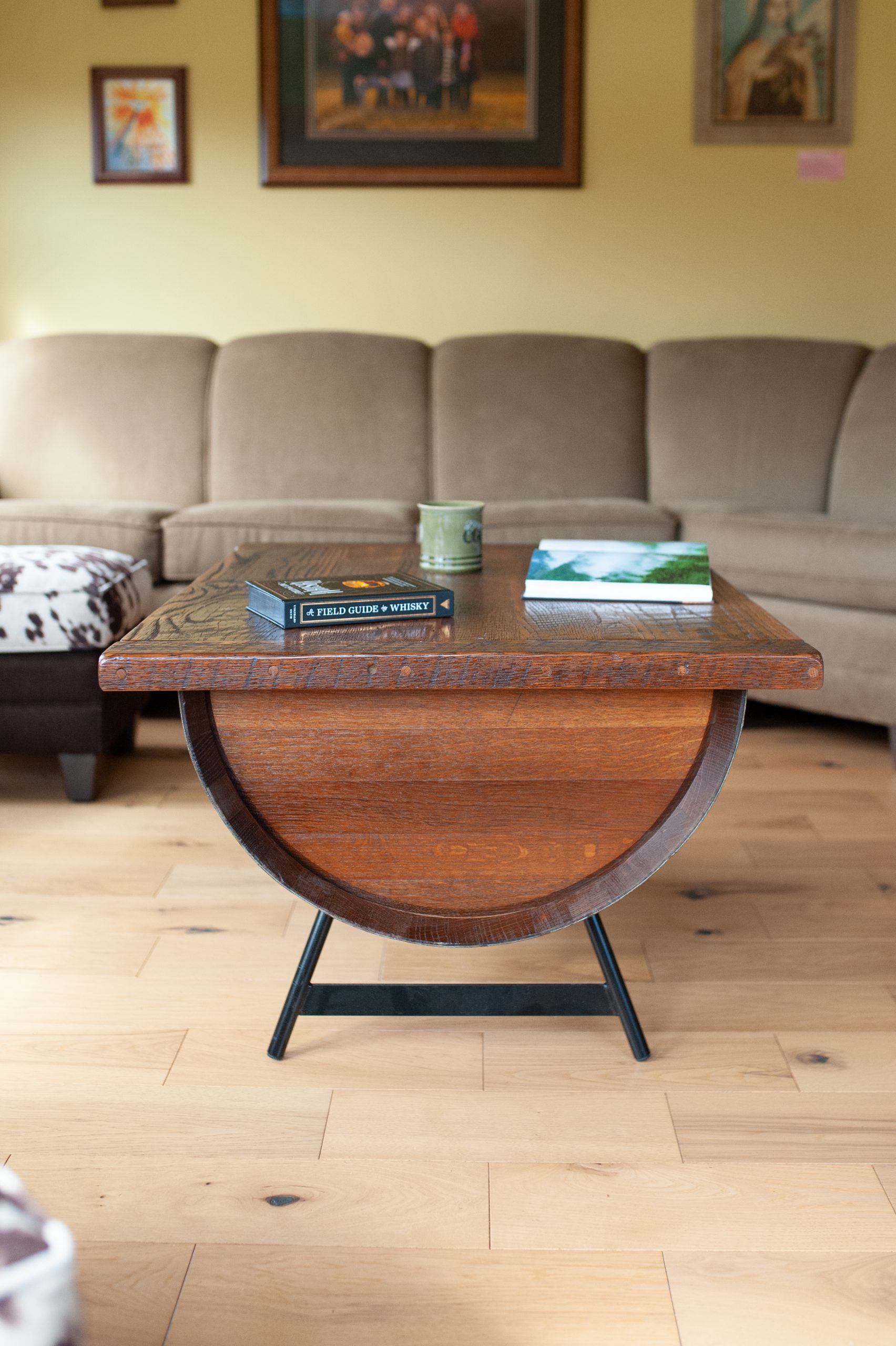 It was time to get out of the corporate life and build a new one. Using that old oak barrel-turned-bar-cabinet as his inspiration, Chris started sketching and making plans.
Reclaim…reuse…recreate: The Oak Barrel Company Is Born
Chris had a deconstructed vision of those old barrels: a view of their component parts and how they might be repurposed as art and furniture. Just as the barrel staves came from old oak trees that took root long ago, so too would the wooden staves serve as the roots of The Oak Barrel Company.
The son of an architect, Chris drew more detailed sketches of how the barrels could be taken apart and re-used. He'd run the sketches by his Dad, who'd tell him what would work structurally.
"We started out going to art fairs in Columbus and Central Ohio," says Chris. "The stuff we had for sale created a buzz and we started getting invited to more shows. Word of mouth and establishing a website has generated even more buzz …and business."
Chris believes his customers are drawn by the same curves and shapes of the barrel parts as he first was when he diverted that old, broken up barrel from a trip to the landfill. It also speaks to the company's mission: Reclaim…reuse…recreate.
The Oak Barrel Company strives to use the whole barrel with little or nothing going to waste. It is among the things Chris says his customers appreciate most.
"They get it. They see the curve of the barrel staves and they like that it now has another purpose. They like the oak especially, because it is sturdy, durable and retains its character. And we use a sustainable process, saving energy, raw materials and landfill space."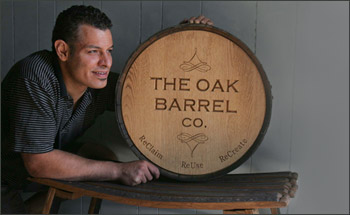 The Oak Barrel Company is located in the heart of Ohio Amish County in downtown Berlin, Ohio just behind Boyd & Wurthman Restaurant . Gallery hours are currently Weds & Thurs 10am-4pm and Fri & Sat 10am – 5pm. Contact us by calling 330-466-0636 or emailing at Chris@theoakbarrelcompany.com